Pumpkin Overnight Oatmeal recipe bring Fall flavor and bliss of pumpkin back into our lives. Quick and easy breakfast to start your day right as the cooler temps arrive.
(Gluten-free, Dairy-free, Low-Sugar, Vegan)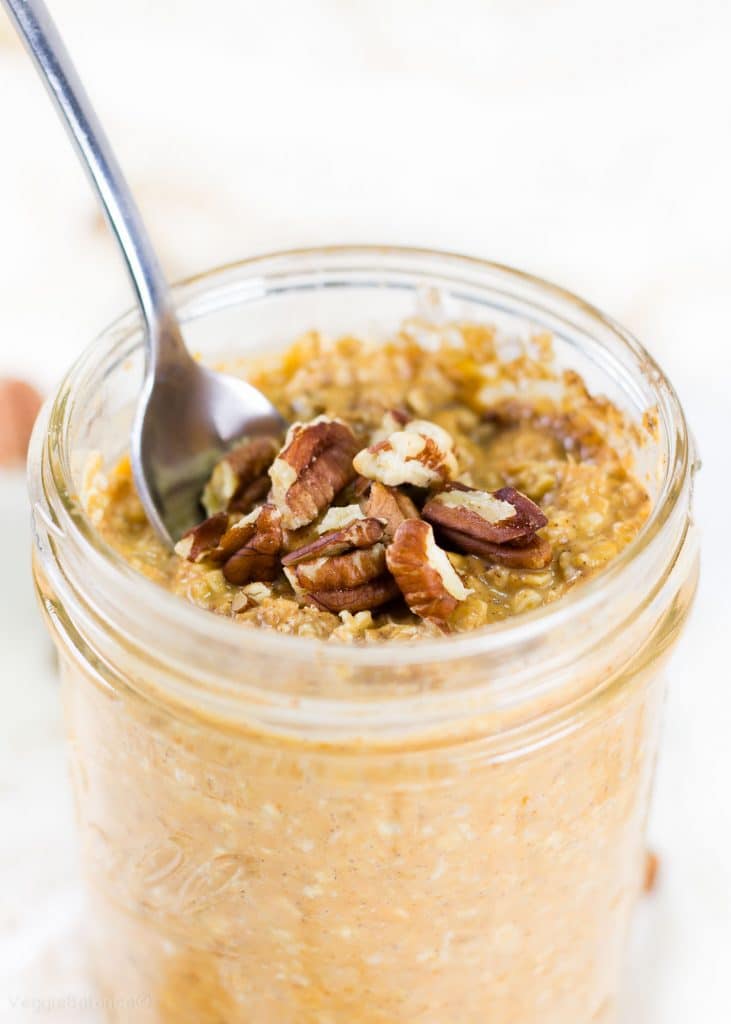 This post is sponsored by Silk. To learn more how this supports VeggieBalance to continually bring you free recipes every week. Find out here.
Our first pumpkin recipe of the year!?! Yesss! Now it feels like Fall has arrived.
I've been on a overnight oatmeal kick. It seems like the easiest way to get a hearty breakfast in before the chaos of my day begins.
Chaos guys.. Welcomed with change and some reason I'm not stressed at all. (I'll report back after the day of the move though.)
Blueberry Overnight Oats were the beginning this year, Pumpkin Overnight oatmeal now and there just might be Apple Cinnamon version in the future. 😉
The one thing that I've noticed be doing since R deployed is I use creamer for EVERYthing. I prefer it in my tea, oatmeal, cakes, cookie dough.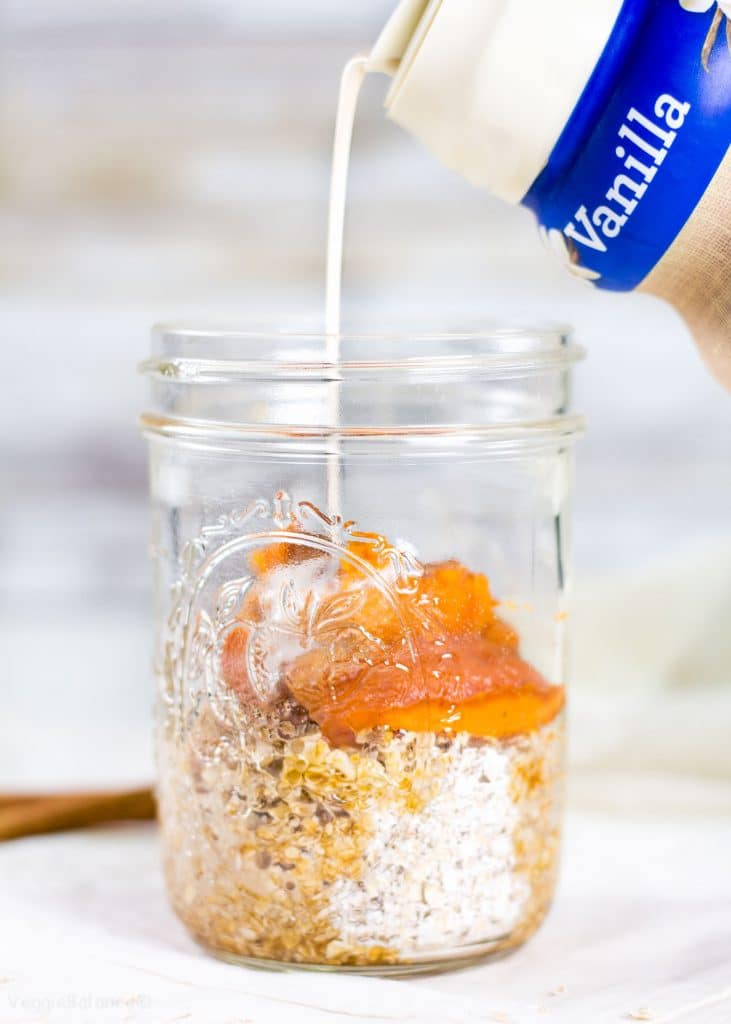 I just love the creaminess of it, plus – when it's only one person, buying two different types of milk is overkill. If I have to choose, Almond Milk creamer all the way.
So it's only natural I put it in these Pumpkin Overnight Oatmeals!
Between the creamy nature of pumpkin combined with almond milk creamer, we've got perfection guys.
It's so smooth and flavorful, you'll forget you are eating something healthy for breakfast. No joke.
I'm having one of those mornings today. The house is quiet, it's cold outside but the sun is streaming through the windows. Fall is definitely here.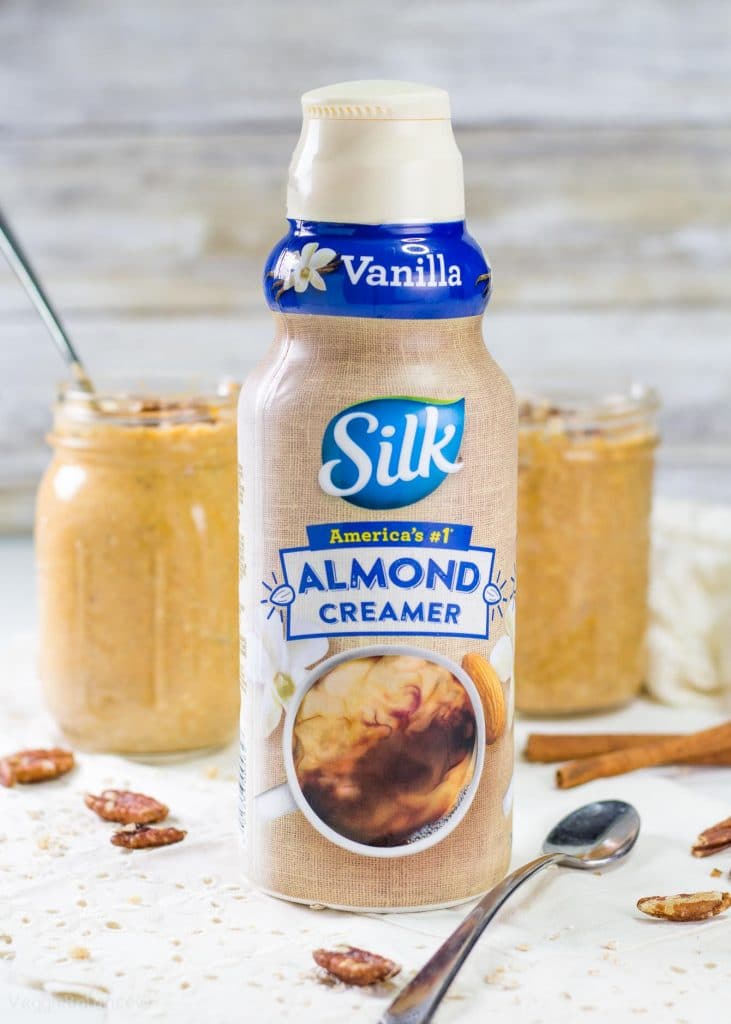 This is my favorite season. If only it lasted longer in Michigan – skip Winter altogether.
At this moment, it's the calm before the chaos. Selling the house, getting rid of 99.9% of our things. Which my minimalists out there, I truly understand the thinking with minimalism now.
I THOUGHT I understood it when I purged many of my things last year. However, I realize what we are venturing into is real minimalism. It's freakin' liberating.
I hope you join me in making these Pumpkin Overnight Oatmeals, pair it with a cup of warm tea sitting with  the Fall sun streaming into your windows but cuddled under a blanket to stay warm.
#FallBliss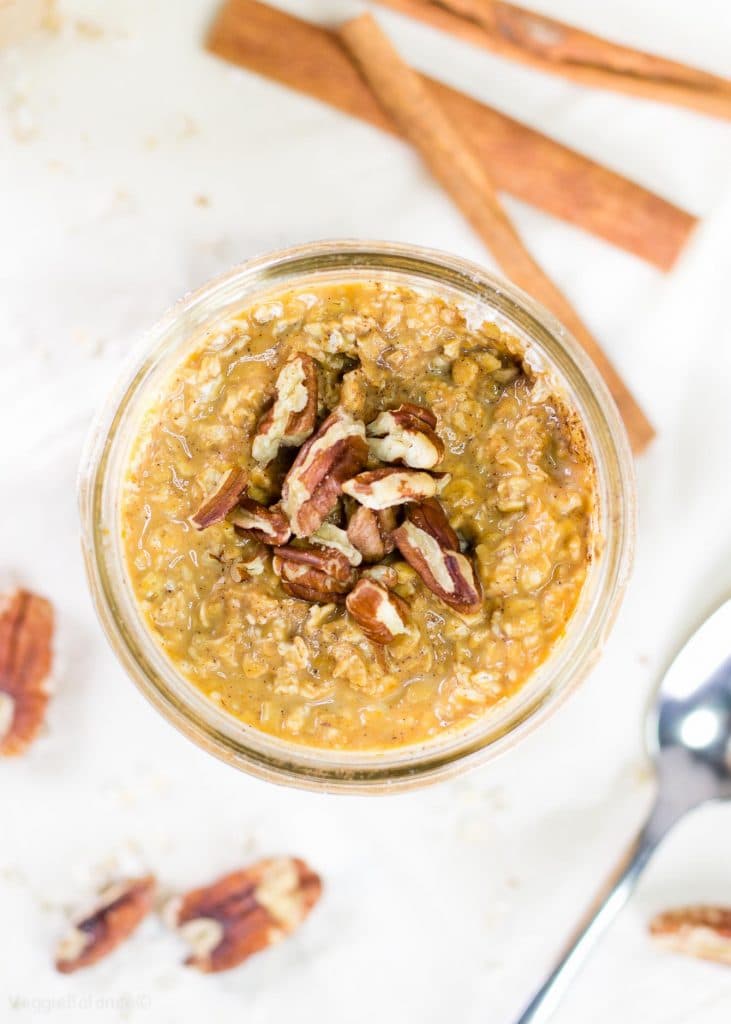 This is a sponsored conversation written by me on behalf of Silk. The opinions and text are all mine.