The Best Vegan Carrot Cake. This insanely moist and flavorful vegan & gluten-free carrot cake is so easy to make and is perfectly spiced.
(Gluten-Free, Vegan, Plant-Based)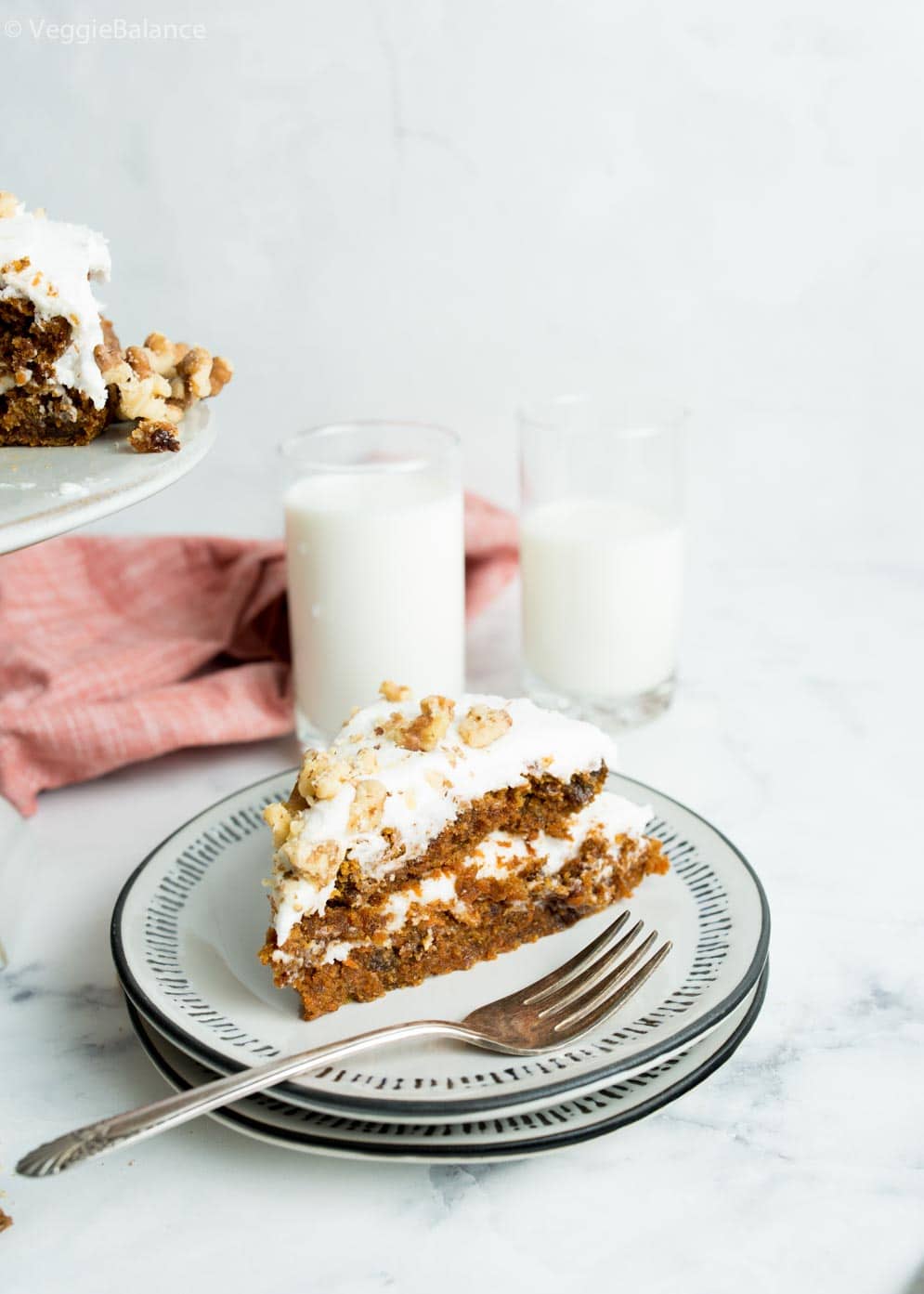 Oooooo I can't wait till you try this vegan and gluten-free carrot cake! I feel like baking is essential right now. We've found ourselves baking way more these past couple weeks as we settle into a new normal. One way to make everything better, is cake.
I know we are a little 'behind' sharing this as this technically should have been shared a couple weeks ago for Easter.  But I make carrot cake at anytime of the year and I can't be the only one that craves this spiced perfection numerous times a year.
In truth it's our applesauce spiced cake that we make on the regular (like once a month 😂).
Carrot cake is one of my favorites but the downside to it for me is grating those darn carrots.
HOWEVER, when I have a pack of old carrots in the fridge then I cannot wait to bust them out and make this vegan carrot cake.
So if you are a fan of our applesauce spiced cake.. or really a fan of any spice cake with that perfect frosting combo. You've got to make this carrot cake. (whether you've got old carrots in the fridge or not 😉)
All you'll need for this perfectly baked vegan carrot cake 👇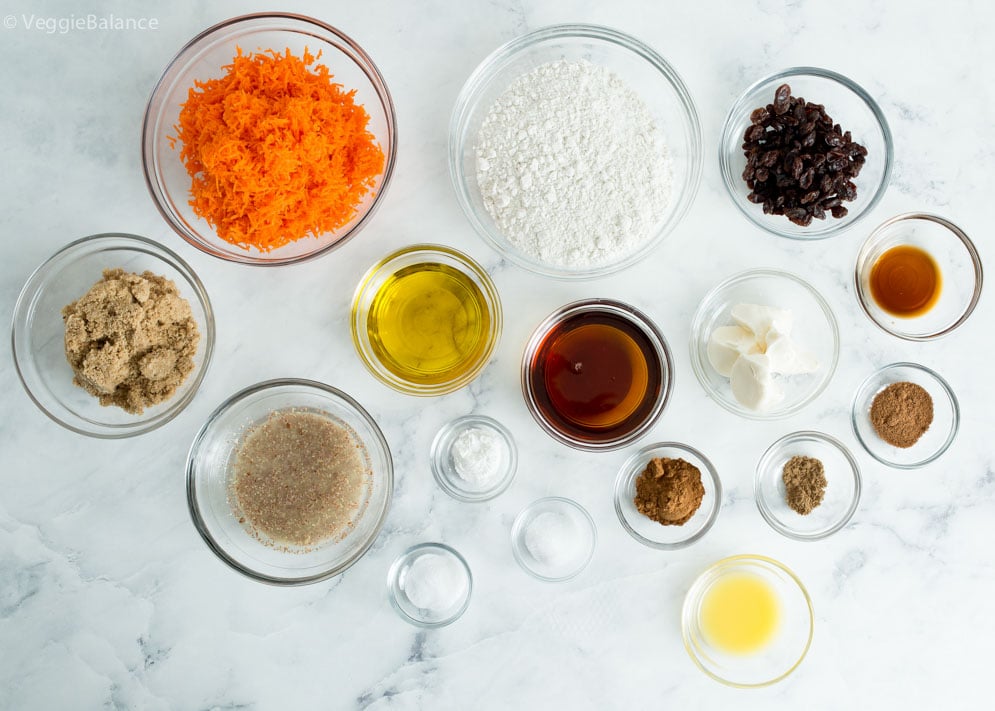 How to Make a Vegan Carrot Cake
You really need a few basic ingredients + carrots. The best part is that this carrot cake requires no eggs whatsoever. We use the fabulous flax egg.
We go into a ton of detail on how to make a flax egg and so on if you are new to flax eggs. Going to this post will get you up to speed what we are talking about.
Everything you see above is what you'll need. It seems like a lot but it's heavy in the spices and majority of the recipe is actually spices…. because a correctly spiced carrot cake is the bestttttttt.
Now the batter is a bit thick as you'll see below. No worries, it's kind of once of those random gluten-free flour things where it's best to have it this consistency in order for it to bake like perfection.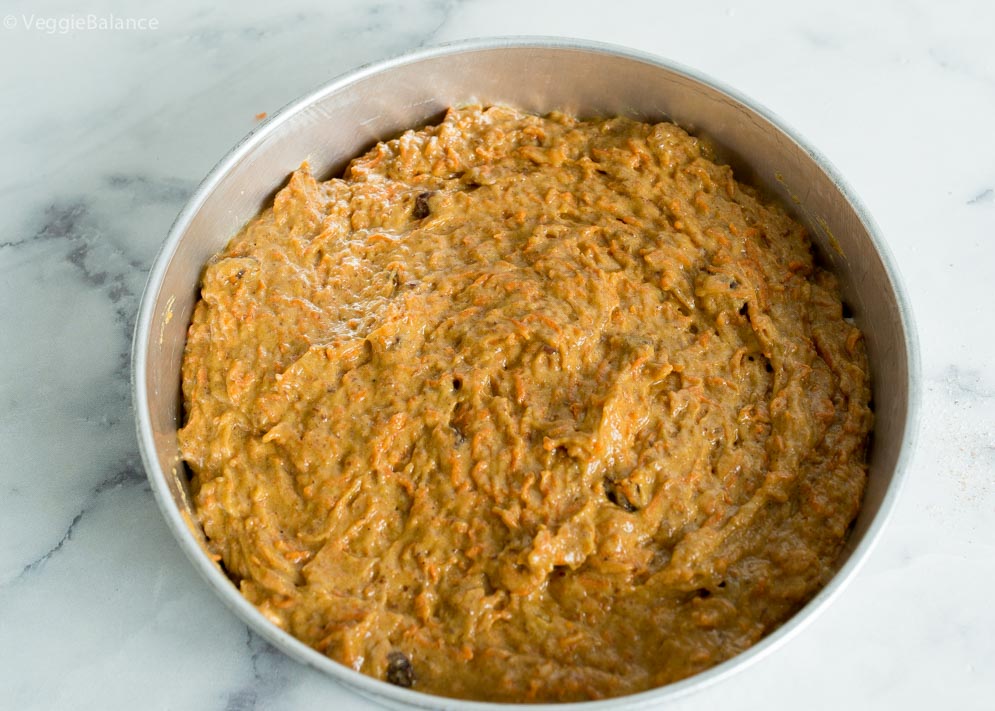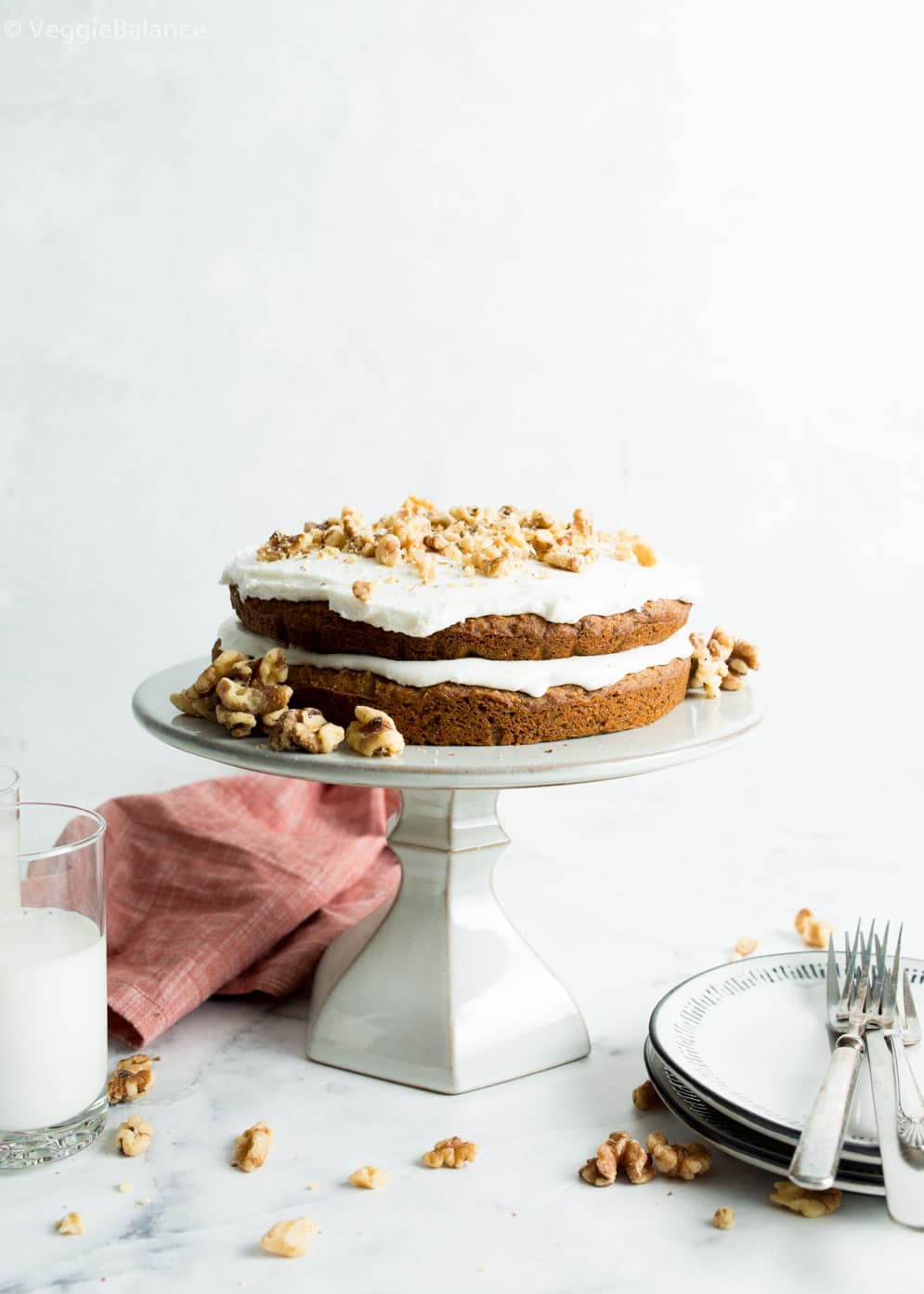 What kind of frosting to use for carrot cake?
There are really a ton of different kinds of frostings you can use with this carrot cake. Below in the recipe card we provide a basic vegan vanilla frosting. But here are a few other choices.
Cream Cheese Frosting – you can use a dairy-free cream cheese frosting and use the cream cheese frosting from our applesauce spice cake
Brown Sugar Frosting – so this is a hunch but I actually wonder if this brown sugar frosting from our pumpkin cookies would be good on this cake. My gut… says yes.
So after you choose your frosting all that is left is to frost and DEVOUR. This cake won't last long in the house with everyone home these days. Just means we'll need to keep old carrots at the back of the fridge for now on. 😉