Healthy Gluten Free Chocolate Chip Cookies recipe, 6-ingredients turn into gooey moist chocolate chip cookies that are a healthy and skinny chocolate chip cookie. Gluten Free, Low-sugar, No oil or butter added.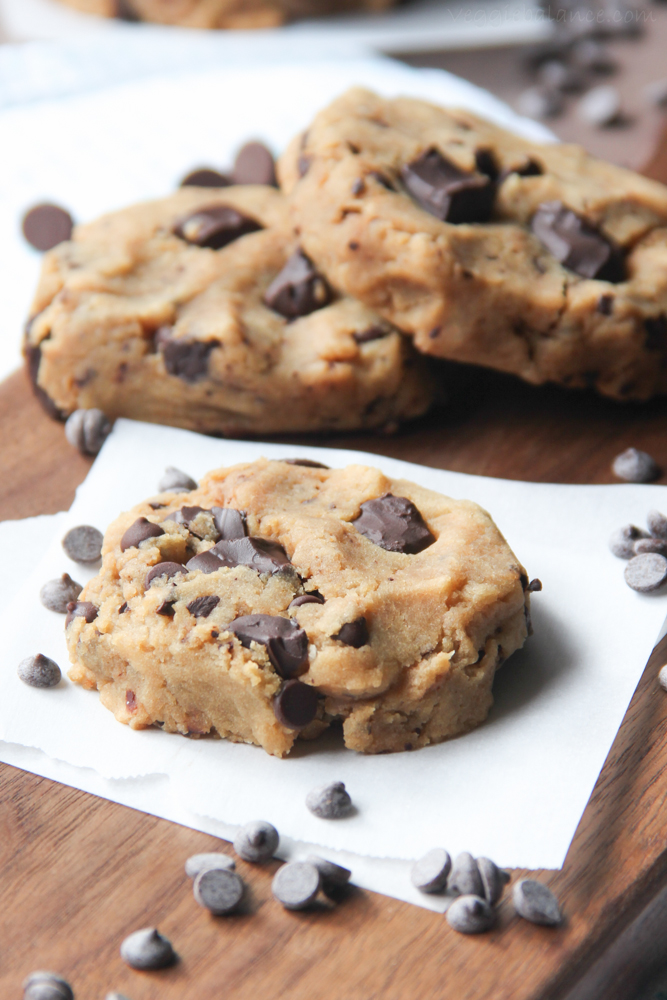 Healthy Chocolate Chip Cookies Recipe
Pin it to your Healthy Cookie board to SAVE it for later!
Follow Veggie Balance for more great tips, ideas and recipes!
---
These healthy gluten free chocolate chip cookies are what you and I have been waiting for since the very day I was told I needed to go gluten free. These skinny and healthy chocolate chip cookies are gluten free, low-sugar, and no oil or butter was added.
I made these rocking flourless double chocolate chip cookies not too long ago and oh my word YUM. However, they definitely are not the healthiest in the world. They are what got me kicked into gear to re-create myself a healthy and gluten free chocolate chip cookie. Let's be honest we all need chocolate chip cookies in our life, right?
These sweet, natural ingredients complete these healthy gluten free chocolate chip cookies and really complete my soul. With such simple, natural ingredients, they are sinfully delicious, moist and so easy to pull together with just 5-ingredients. Told you it's a winner.
Winner winner gluten free chocolate chip cookies for dinner.
The night I pulled these together I ate so much dough and cookies, I actually did skip dinner. Cookie dough that has zero eggs in it is dangerous. There is nothing stopping me from demolishing every leftover dough bite. Or lets be real, spoonfuls of dough.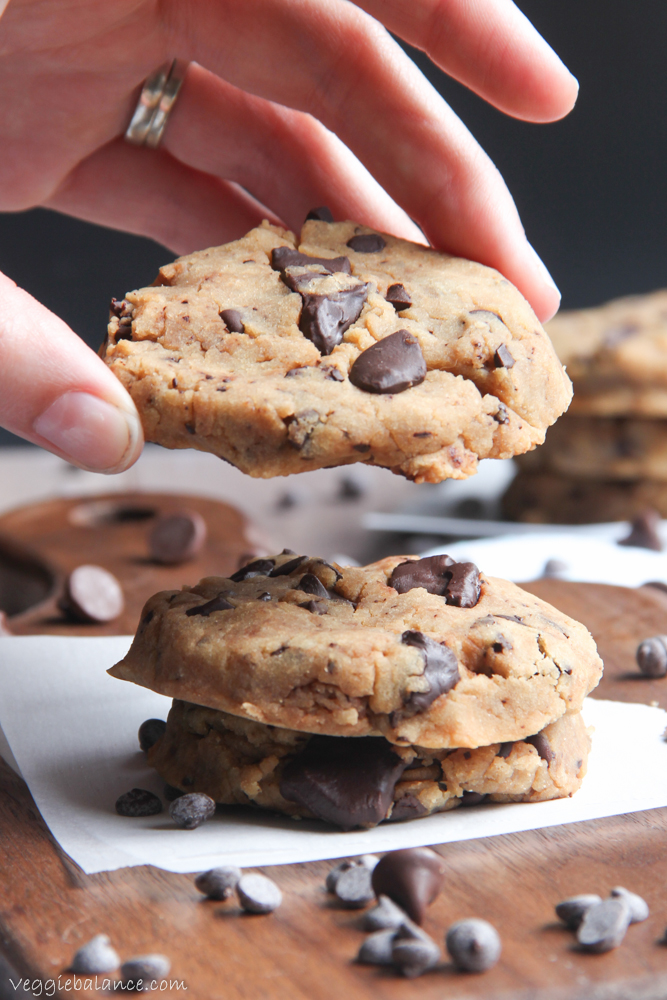 These gluten free cookies can most definitely be made with normal flour if desired, they are very similar to my original
Skinny Chocolate Chip Cookies
I made last year.
We are going to have to create a new Top 5 Healthy Cookie recipe list because these babies deserve a spot. Should I make 4 more cookie recipes to help join the newest addition of cookie heaven?
Hecks yes.
Yes, I just responded to myself. I love excuses to make cookies. Cookies are so easy to make in terms of prep and within 15 minutes you can enjoy them with a large glass of milk. Or my favorite is with a cup of tea. Is that odd? R seems to think so.
He also thinks that dark chocolate is the nastiest thing in the world though, which I highly disagree with. I actually made a batch with 100% unsweetened bakers chocolate and he happily ate an entire batch with that chocolate by himself without one acknowledgement they had super bitter chocolate in them.
Told you dark chocolate is delicious. Wife is always right.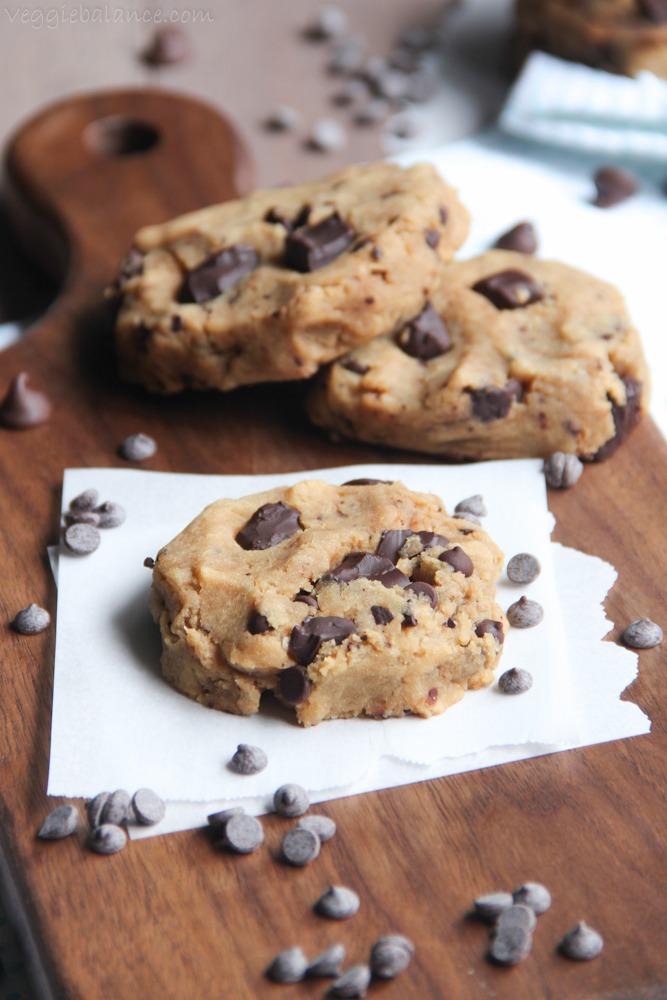 I need some rich dark chocolate in my life.
Those antioxidants need to assist my body on repairing itself. We've for some reason
(I'm a glutton for punishment)
signed up for a half-marathon one month from now.
My shoulder is holding up, however the rest of my body is screaming at me.
Speaking of my body screaming at me let me tell you about a major first for me this week. I had my first deep tissue massage for my shoulder. Pretty crazy I'm almost 26 and never had a professional massage before. I was never sold on the idea nor thought it would do much.
It was the most heavenly, yet painful experience everrrr. I might of found another addiction on top of running. Oh my word, I didn't know what to expect but the best way I can explain is it's that good pain you just know you can push through. After it was over I felt amazing and can't wait to go back. So yeah, just like running.
I believe 14 years of gymnastics kind of made me a freak when it comes to that kind of enjoyment of pain. It's not the excruciating something is wrong kind of pain, its your body is capable of so much you just have to push through and keep going kind of pain.
So between the long runs, heavenly/painful massages and cookbook editing I'm making an executive decision and deciding I truly have earned these healthy gluten free chocolate chip cookies. My other executive decision is that you do too. <3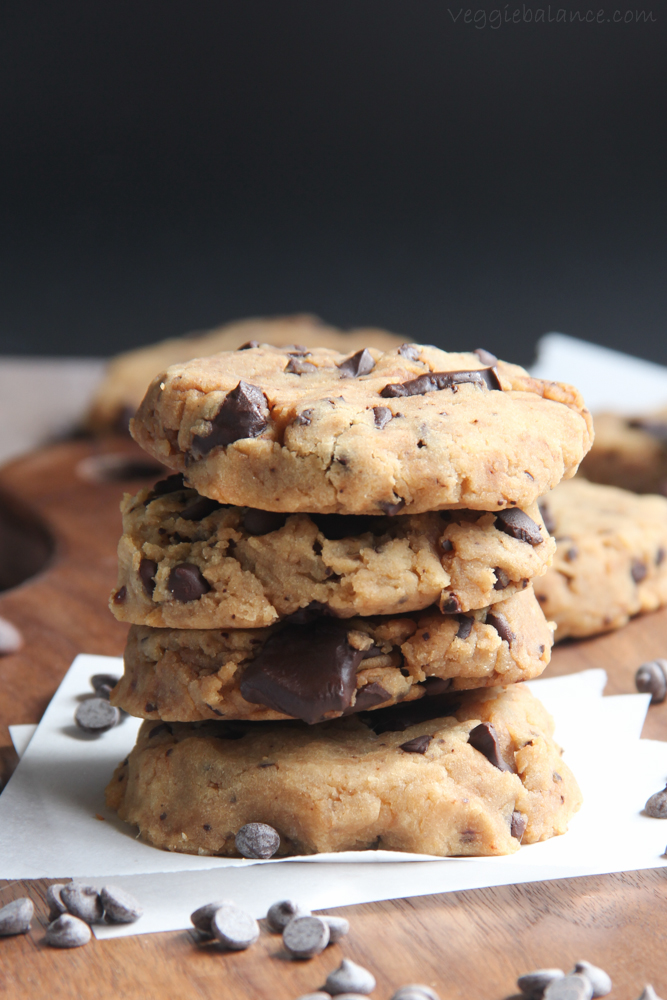 Veggie Balance
Serves 1 healthy chocolate chip cookie
Healthy Gluten Free Chocolate Chip Cookies
Healthy Gluten Free Chocolate Chip Cookies recipe, 6-ingredients turn into gooey moist chocolate chip cookies that are a healthy and skinny chocolate chip cookie. Gluten Free, Low sugar, No oil or butter added.
15 minPrep Time
11 minCook Time
26 minTotal Time
Ingredients
Instructions
Preheat oven to 350° F
Prepare baking sheet with parchment paper or b][silicone mat [/b]
In a medium bowl add the flour, baking powder, and salt. Mix together.
Stir in the vanilla extract, honey, b][peanut butter [/b], applesauce. Stir until fully combined.
Fold in the crushed dark chocolate and mini chocolate chips
Mixture will be slightly sticky. Drop the dough onto baking sheet by the Tablespoon.
They were not spread out during being baked so make sure you have them looking the way you want them to look. I personally like to flatten them and make them more of a circle cookie.
Bake them for 8-11 minutes or until they have risen and are golden brown.
Notes
To make paleo, swap gf flour with 1/2 cup coconut flour For peanut allergies, swap with nut butter of your choice, smooth almond butter and sunflower butter have both turned out great.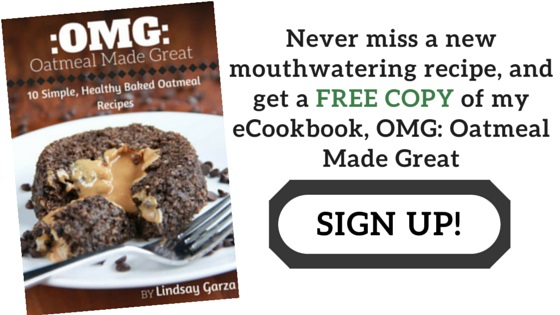 If you're looking for healthier recipe options, click HERE.
IF YOU LIKE THIS RECIPE PLEASE SHARE WITH THE OPTIONS BELOW!