Apple Oatmeal Bars can help you bring in the holiday season right, sans the gluten but with all the delicious flavors and an easy peasy recipe. It's always apple season in our house! (Gluten-Free, Dairy-Free, Vegan friendly)
Let the baking marathon begin! I'm ready for this holiday season. Totallyyyy ready.
It's funny how after an entire weekend eating and binge watching Netflix how you can find yourself refreshed and ready to take on the next wave of holiday goodness.
Christmas cookies, another attempt of gluten-free fudge, oven caramel corn and so many other goodies … like these Apple Oatmeal Bars.
You might be wondering, is it too late in the season for apples? Never.
While don't get me wrong, I love myself a pumpkin pie. But for me, apple crisp (and really apple dessert of any kind like these Apple Oatmeal bars) is totally what I'm down for around the holidays.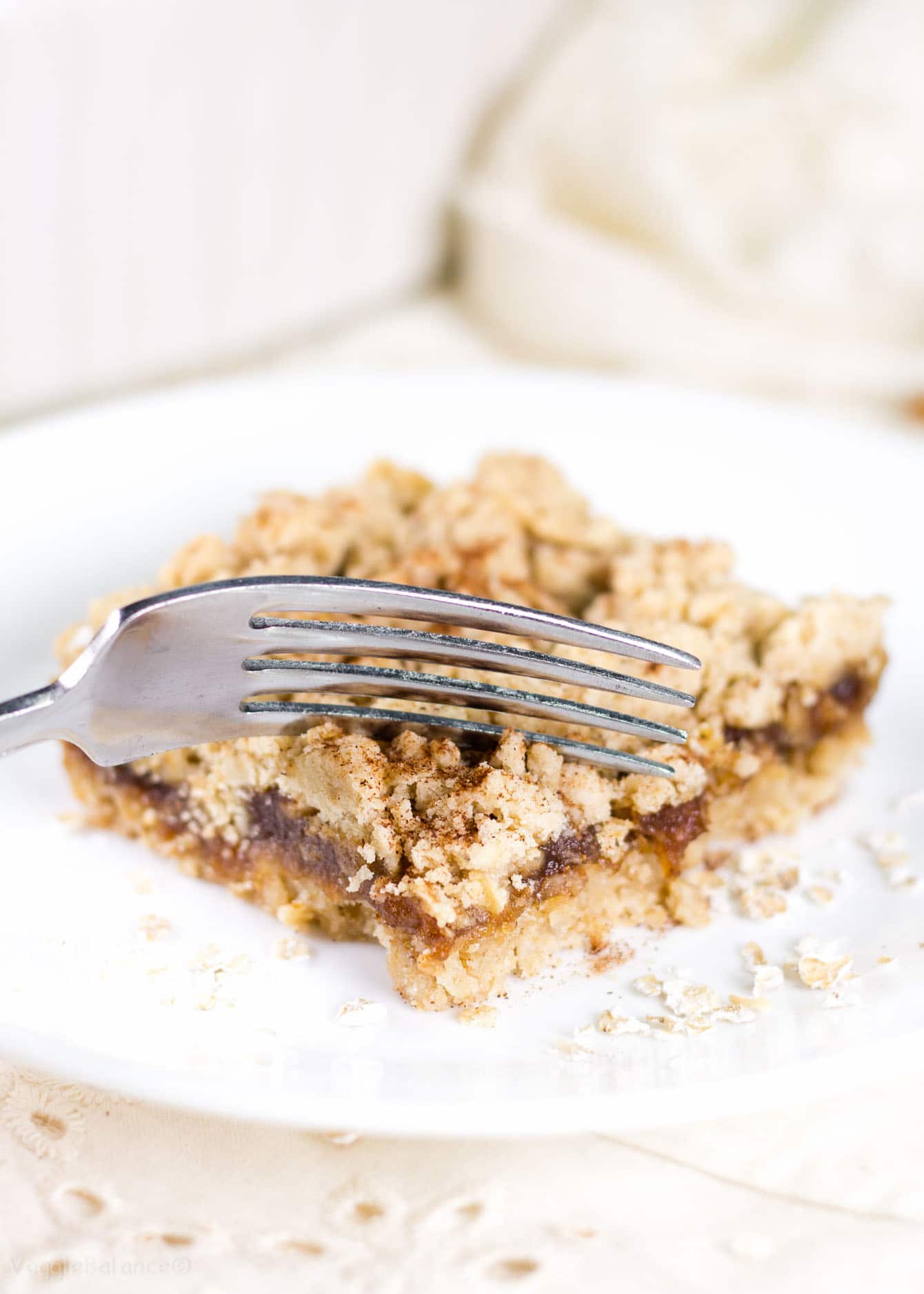 Dollop with a scoop of ice cream and we are in business.
TIP: If you are looking for the ultimate lazy person apple crisp, our gluten-free slow cooker apple crisp is calling your name.
If little squares of apple cinnamon goodness baked to perfection to pass around the office is what you are looking for these Apple Oatmeal Bars ARE IT.
It's simple, press half the dough into the pan, smear some apple butter on top and crumble the remaining dough onto the top, then BAKE!
Bam. Easy Peasy Apple Oatmeal bars.
You heard me right though. Apple butter. Mmmmm. It's something I make every couple years in the slow cooker. Fail that I don't have a recipe to share with you right now.
You can easily buy it if you are feeling like making these bars the super easy way.
That's the route I've opted to go. Hence, we don't have a post to share with you that recipe.
Just moved out of our house, sold 95% of our things and living out of boxes? Yep, I'm buying apple butter pre-made this year.
Life is chaotic enough, I used to love the thought of sitting in the kitchen peeling apples, lately I'm just trying to remember what day it is and if there is something important that I forgot to do.
Note: Most of the times you think you forgot something important, YOU DID.
So I'll take these super easy and delicious Apple Oatmeal Bars and bring it to our next party and feel like I'm accomplished in life. At this point it seems to be the only thing I can control.