Gluten Free Birthday Cake is the best way to celebrate just about any occasion. Have your cake and eat it too, without the problematic protein with this gluten free dessert worthy of blowing out the candles.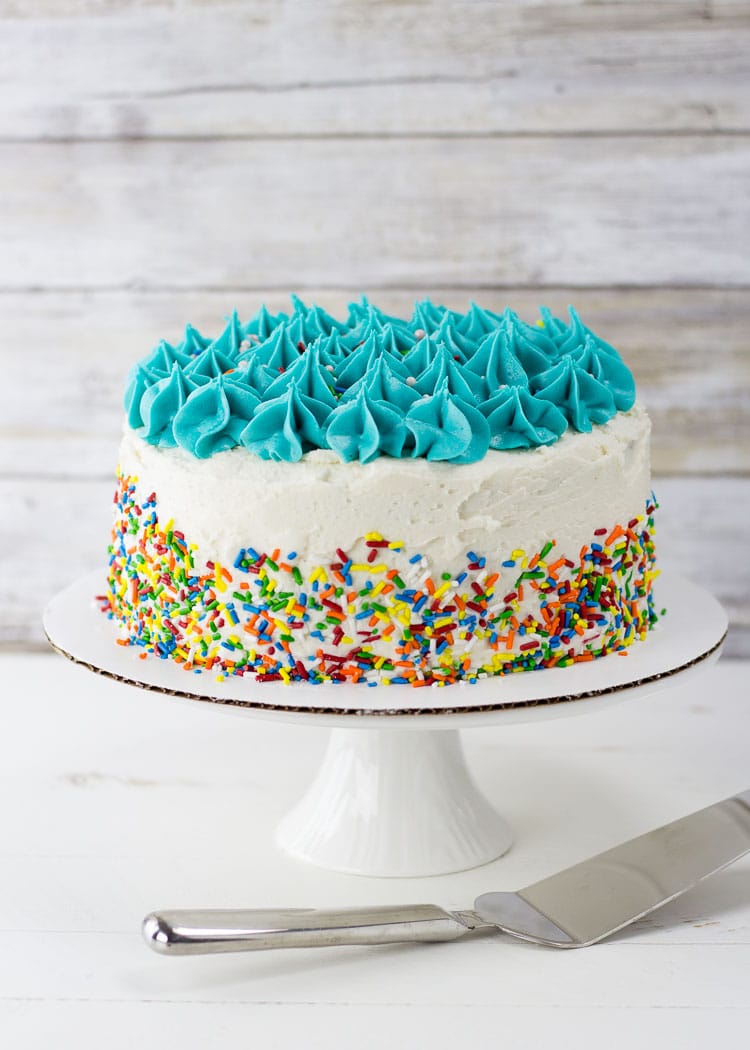 Gluten Free Birthday Cake is more than a celebration of life. It symbolizes a food that traditionally would be on the no-fly list, before we figured out how to remove the gluten without sacrificing flavor.
Definitely something to celebrate, in our opinion. The best gluten free options are the ones you can't tell are gluten free. This cake is no exception. We love the flavor and your family will too!
Our birthday is coming up and we realized we've YET to share our gluten-free birthday cake that we fall back on when this gluten-free ice cream cake isn't a viable option (like taking it an hour in a car to visit family 😆). So here you go.
How to make the best gluten free birthday cake
What you'll need: Almond milk, apple cider vinegar, sugar, gluten-free baking flour, baking soda, baking powder, salt, brown sugar, eggs, vanilla extract, butter, sprinkles and vanilla frosting.
Pro tip: Make sure to allow the cake to completely cool before frosting or decorating. It's understandable if you're eager, but trust us that you'll want to wait.
Frosting is maybbbbbe our favorite part of the perfect gluten free birthday cake. We're a little partial to our Healthy Vanilla Buttercream Frosting.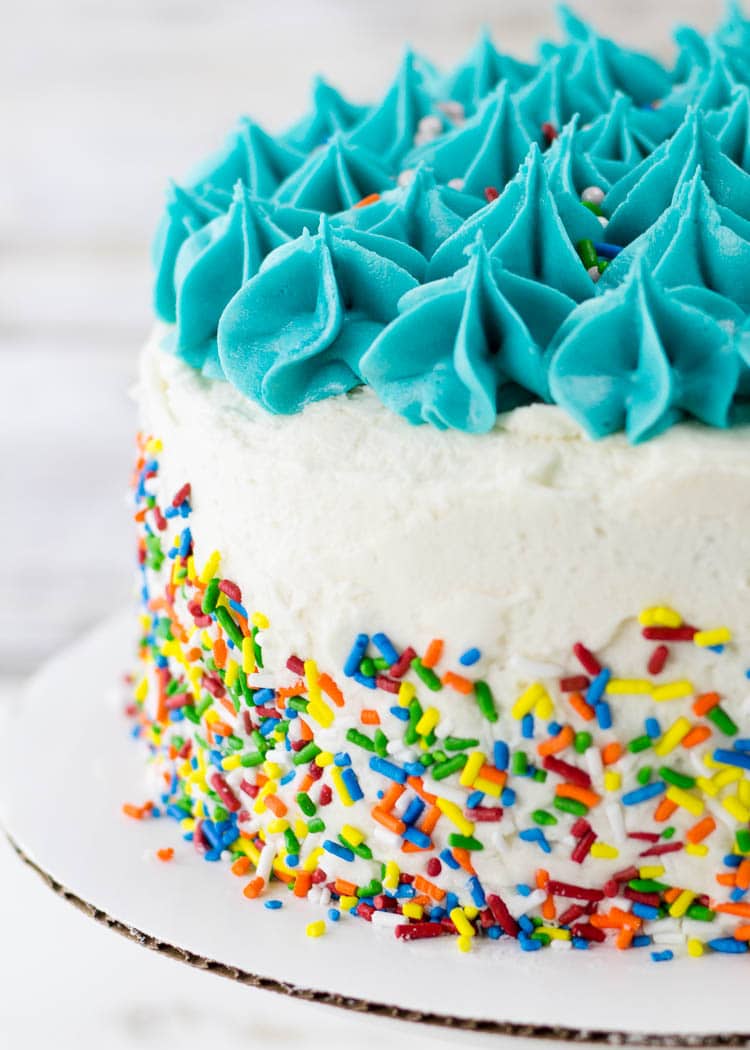 Best Gluten Free Birthday Cake: A history
How exactly did birthdays come to be celebrated with cake? Let's rewind a little.
Birthday cake was born back in the Middle Ages, all the way in Germany. Kinderfest was a celebration of young kids birthdays. Weddings were also an occasion fit for cake. I mean, we can't argue with either of those historically significant reasons to celebrate with cake.
In the beginning, cakes were a little more simple, sweetened bread based. Over time they evolved to become a lot more elaborate with frosting, toppings, filling, layers and more.
And now we have gluten free goodness to celebrate. This Gluten Free Birthday Cake is an evolution of happiness, with delicious frosting and sprinkles on top.
Birthday Cake is one of those foods with fond memories attached. It's like the sweet nostalgia has a flavor all its own. We recommend savoring every bite.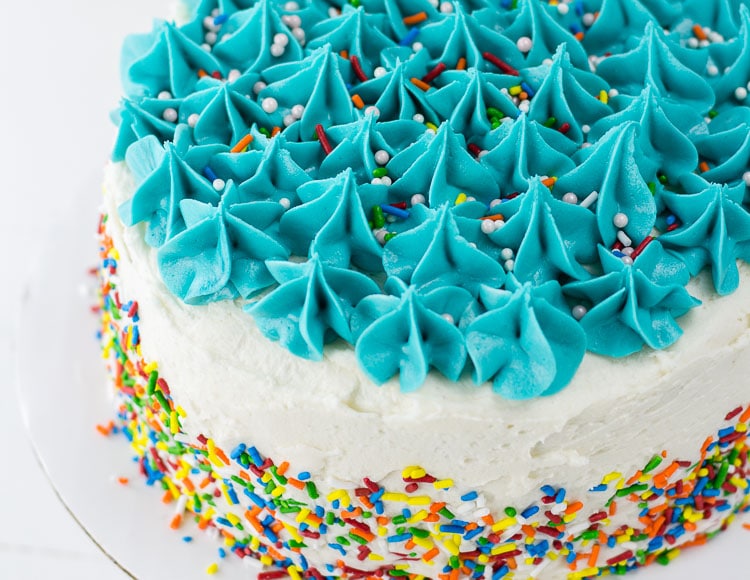 Top it off properly
You can also modify this cake to get fancy with your flavors. A few options:
Lemon: We prefer a little lemon extract and maybe a touch of zest to kick things up a notch. Similar to our Lemon Jelly Birthday Cake 😉
Drizzle: Chocolate, caramel, or peanut butter make a great drizzle for this birthday cake. If you're feeling extra, go for all three! Kindddd of like our Chocolate Peanut Butter Cake.
Fruit and nuts: The perfect combination of natural flavor can really transform gluten free birthday cake. We can't possibly object to that.
How to store your cake
Of course, you'll want to keep your cake fresh. Store at room temperature in an airtight container.
You can also freeze cake if desired to save for later (but we're not sure how anyone has leftover cake to freeze!) To properly freeze cake, place the iced cake on a tray in the freezer unwrapped. Once it's frozen, after about 1 or 2 hours, you can wrap it up and keep it in the freezer for up to 3 months.
If you're feeling in the birthday worthy food mood we also recommend our gluten free ice cream cake recipe, to help get you your chocolate fix on. OR you can properly ring in another journey around the sun with our no-churn chocolate chip cookie dough ice cream because cookie dough is always a solid option for celebration.