Gluten Free Stuffing is the perfect blend of comfort food meets side dish, sans the gluten. If you want to stuff your tummy with happiness, this recipe brings it's "A" Game. Grab a utensil and dig in.
(Gluten-Free, Dairy-Free, Vegetarian & Vegan friendly)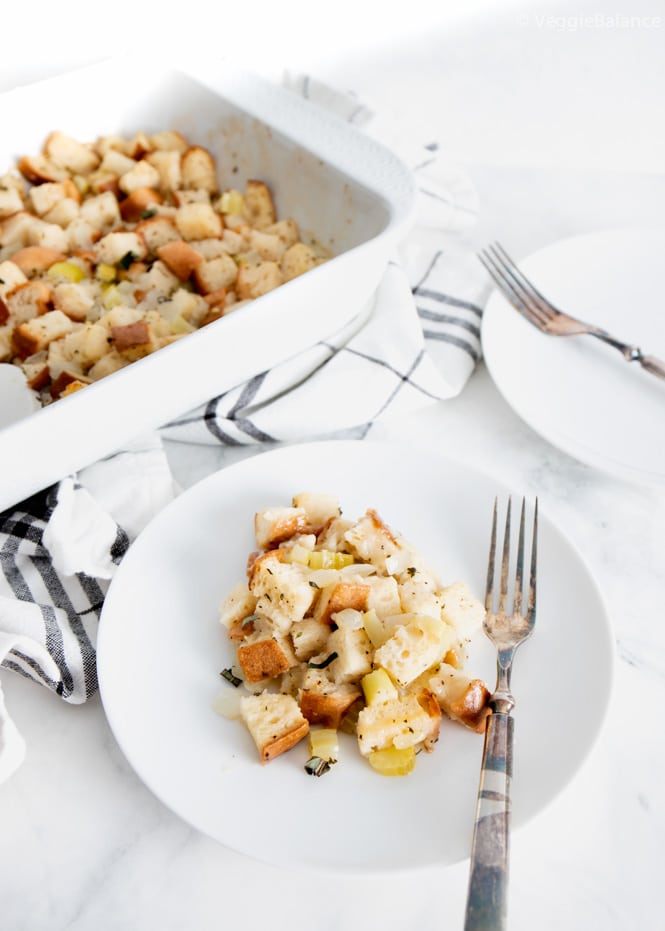 Gluten free stuffing can capture the classic flavor you love from your childhood – without the problematic protein that you're looking to avoid.
I can remember waking up on Thanksgiving, the savory flavor of my mom's stuffing filling the air. It was distinct and entrancing, the smell bringing with it a feeling of peace and family time.
Ah, memories. That's really the thing about stuffing. It's a simple dish that evokes so much more.
Gluten Free Stuffing: All you'll need
We appreciate the gluten free twist on a classic. This recipe is simple, savory and your family will love it.
Gluten free bread is the not-so-secret ingredient for your bases. Butter, white onions, minced garlic, celery, thyme, rosemary, same, vegetable broth and salt/pepper bring this recipe home.
We LOVE how these flavors combine, they can go well properly stuffed and scooped from the protein of your choice OR as a side dish on their own, no meat involved.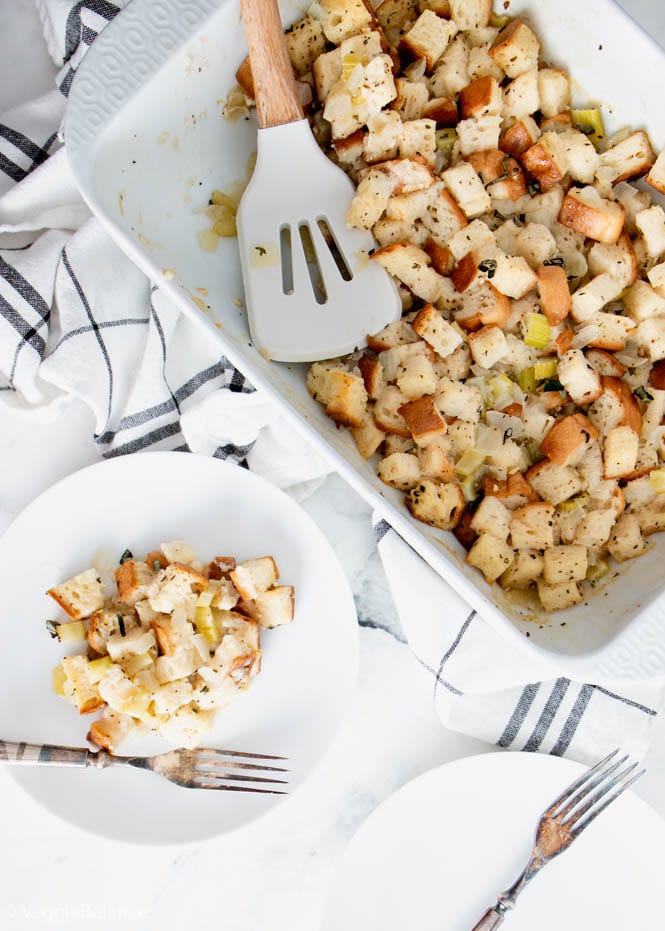 A History of Stuffing
Ever wonder: How on earth did someone decide to mix up stuffing and, well, stuff something to cook and eat?
You know what would be awesome? Let's cut up some bread, mix in some seasoning and other delicious flavors, stuff into some protein, cook and serve as a side dish.
It's a little odd when you think about it that way, we must admit. But it didn't start out that way. Likely many culinary concoctions, their is some mystery in the history.
We do know that there is evidence of stuffing-esque food/dishes from early history – including a Roman chef who included Stuffing in recipes in the Apicius de re Coquinaria, a cookbook known as the oldest in existence.
Cool, huh? Back then, stuffing was heavy on veggies and other foods. Bread-based stuffing developed over time.
Stuffing or dressing?
This makes us chuckle a little. In some parts, people call this dish dressing. We've always thought it was all about the geographic area, but mom has a theory we can get behind.
Stuffing, you stuff. Dressing, you dress. So if it becomes part of another food before you serve (aka Turkey or Chicken stuffing) it's stuffing. If you're dressing your plate with it as a side, it's a dressing.
Call it whatever you want, really, this gluten free dressing … ahem … gluten free stuffing is just plain delicious.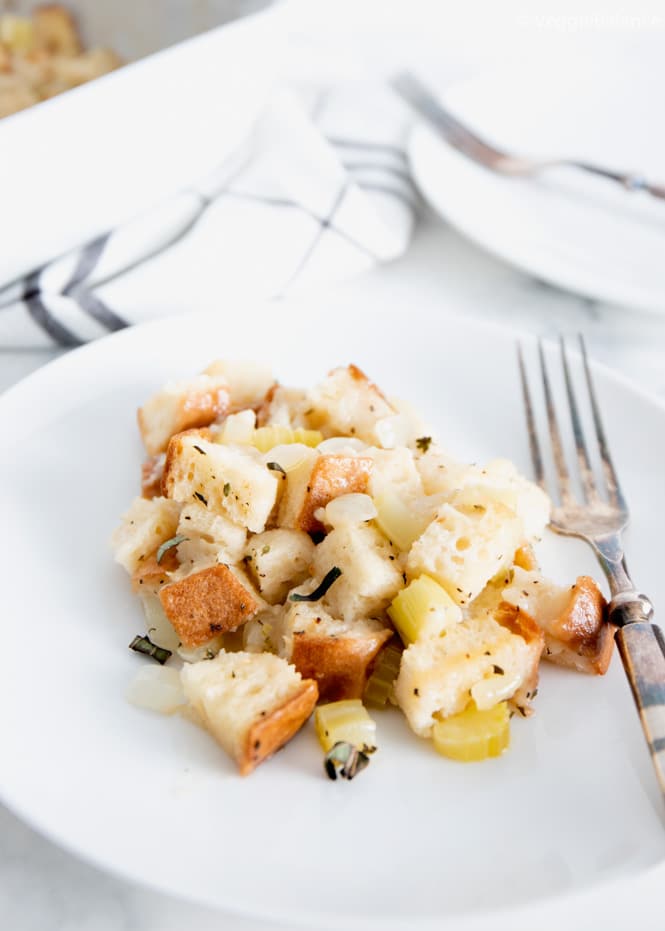 Our recipe is structured in a way for you to create this gluten free stuffing as a stand alone dish.
It truly captures the classic flavor (and smells, oh the amazing smells!) of my mom's dressing.
I haven't always been a fan of celery, but my first dabble with loving it was in dressing. Rosemary and thyme – the smell of those in any other recipes makes me crave dressing. It's funny how attached to a dish you can become without realizing.
This is what we love. This is our dish.
We'd dare even call stuffing a staple. It's warm and cozy, for Thanksgiving or any day worthy.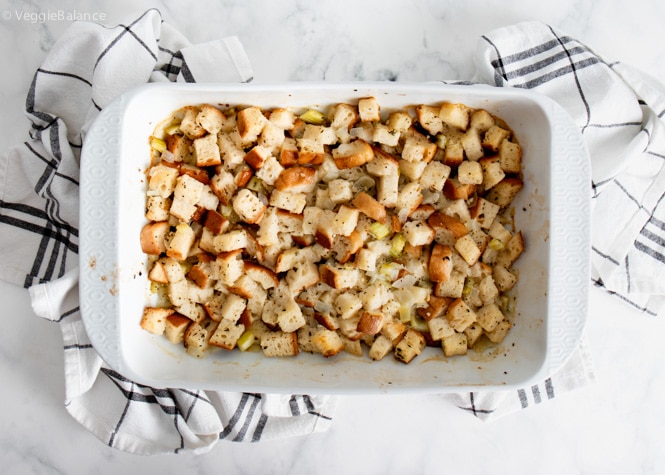 Speaking of Thanksgiving. Where has this year gone? Seriously.
It was something around Valentine's Day just a blink or two ago. We're still feeling the love, but now it's for stuffing. 😉
Don't forget to save us a ladle full. Because a spoonful isn't enough.
Fall flavors immersion
We have some other Fall inspired recipes that may be of interest to you: