Vegetarian Baked Refried Bean Tacos are surely one of the best ways to pull together a quick and easy dinner for a crowd. I describe them as almost vegetarian tacquito style-ish made with homemade refried beans.
(Gluten-Free, Vegan, Plant-Based, Nut-Free)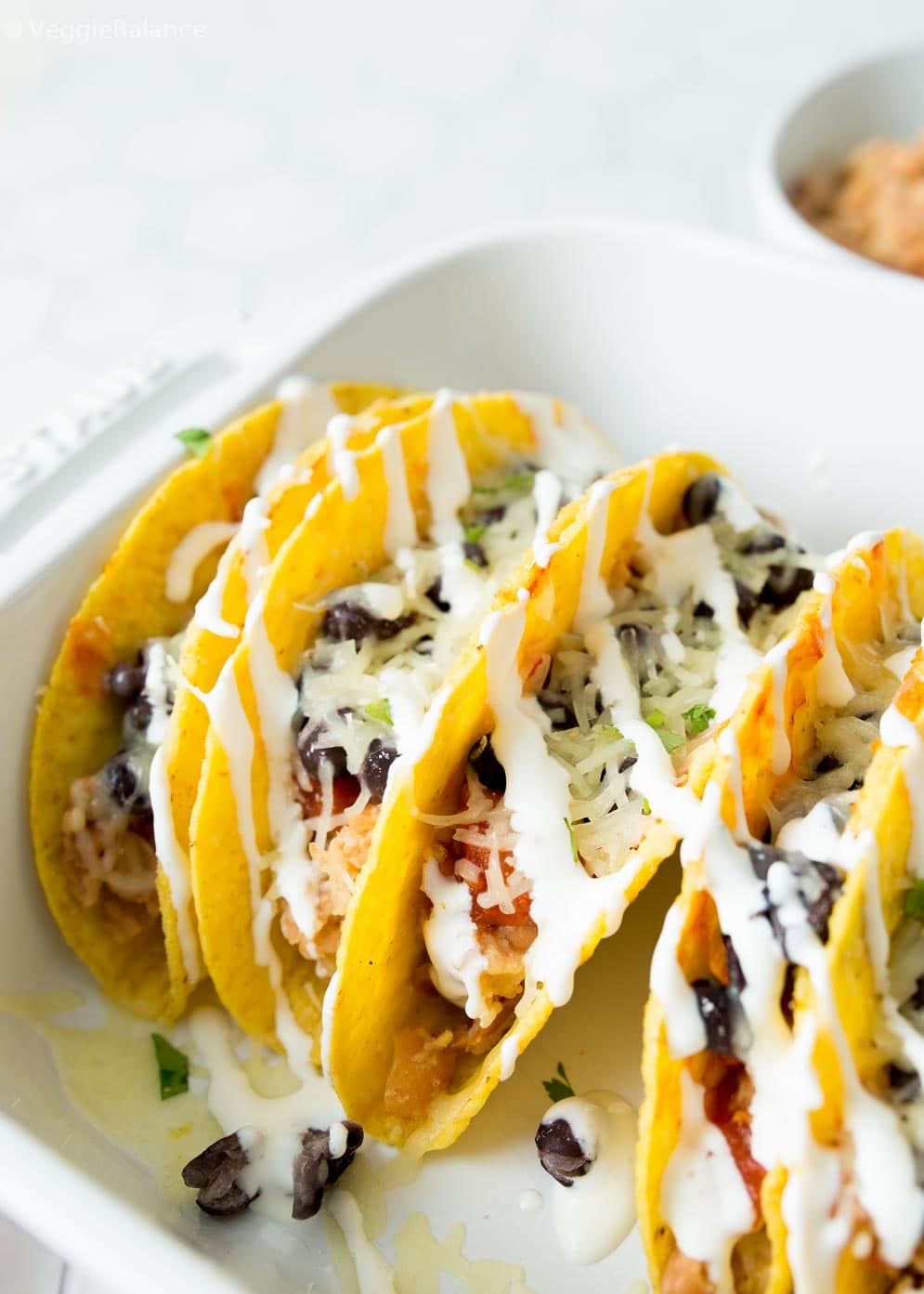 Welcome to oven baked taco perfection. These vegetarian tacos have been something I pull together when I'm feeling lazy and I don't want to do a whole lot of work and the house is running low on ingredients.
We never grew up baking tacos like this so it never occurred to me until after I started making black bean enchiladas that I don't see why we can do the same with tacos!
The result? The hard-shell tacos get a little crispy at the top and at the same time tender at the bottom. It truly reminds me of taquitos. Now they aren't taquitos obviously but we actually call this dish our cheap taquitos in our house.
What is in our Baked Vegetarian Tacos?
5-Ingredients is all you need to create the base of these vegetarian tacos. You'll need: hard shell corn tortillas, refried beans, black beans, salsa and cheese.
You can use dairy-free cheese of your choosing to keep it vegan or any other cheese or cheese alternative you desire. All will work.
After that you can place whatever you want inside. When we made these we were running low on ingredients but when we plan ahead we'll actually enjoy some arugula on these. I know, it sounds weird but I actually really enjoy it more than traditional romaine lettuce. Drizzle some dairy-free plan yogurt on top and some extra taco sauce and salsa and we are in business my friends.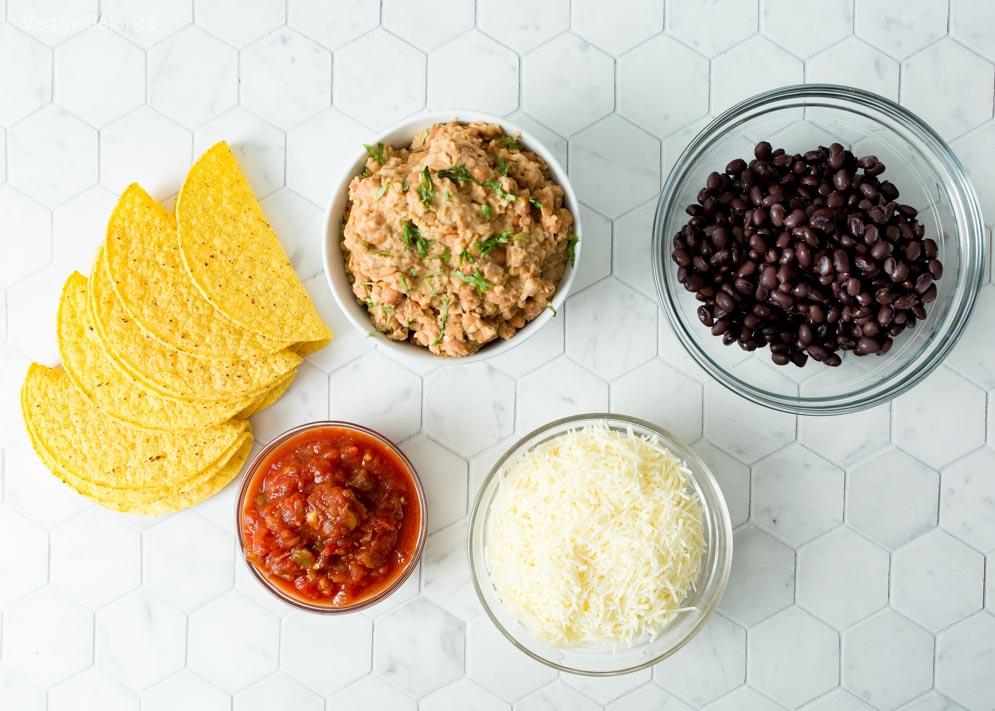 Refried Bean Tacos.. It's all about the beans.
I feel like beans don't get enough credit when it comes to the vegetarian diet. Our Homemade Vegan Refried Beans are the main star when it comes to these Baked Vegetarian Refried Bean Tacos.
There are a few other options that you can do though if you are looking for a vegetarian meat replacement similar to beef. Our Vegetarian Taco Meat Replacement is a fabulous alternative to use or used in addition. It's one of my favorite recipes for meat replacement using 2 natural ingredients.
If you are looking for something simple for just yourself for lunches this Vegan Burrito Bowl is divine.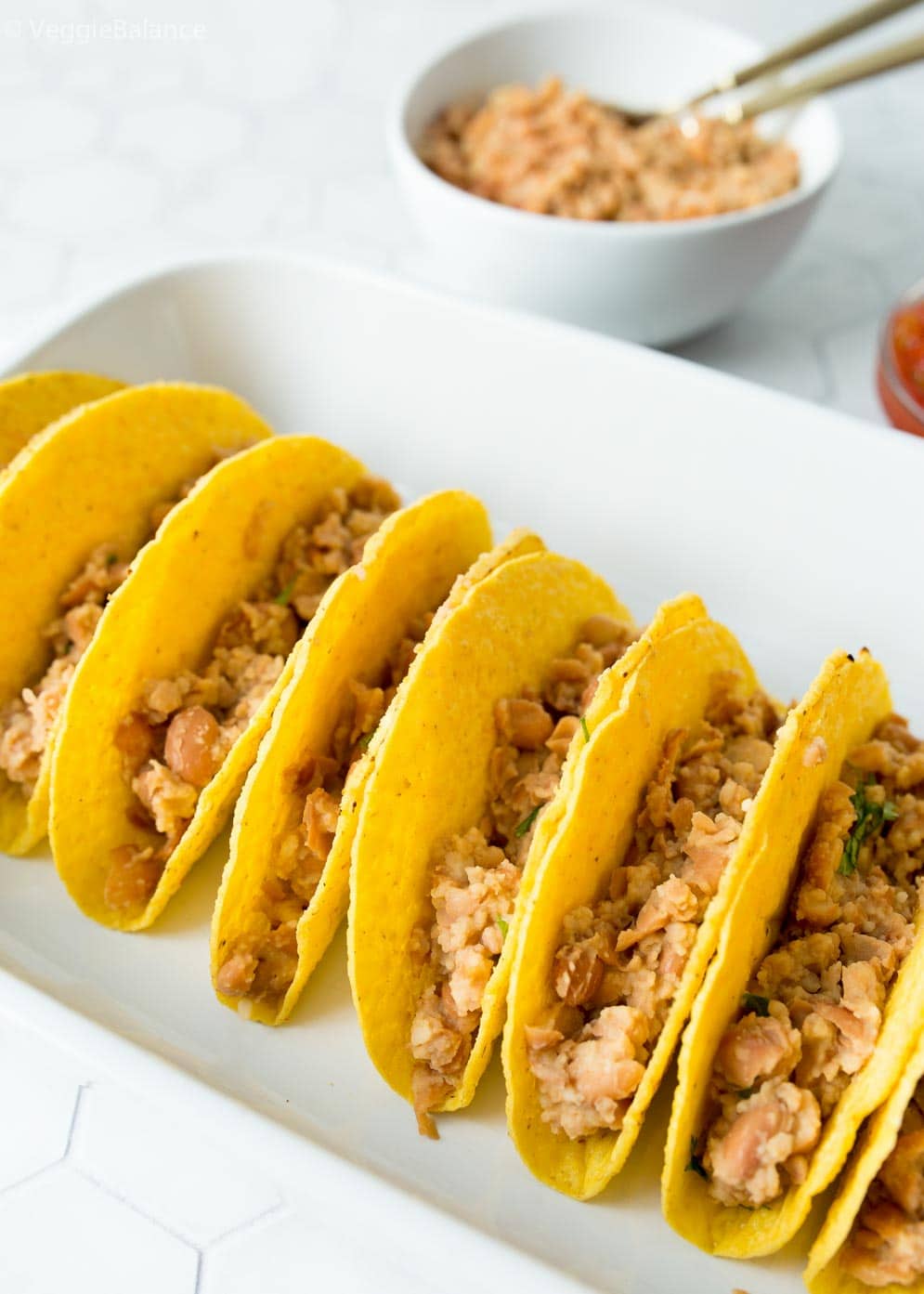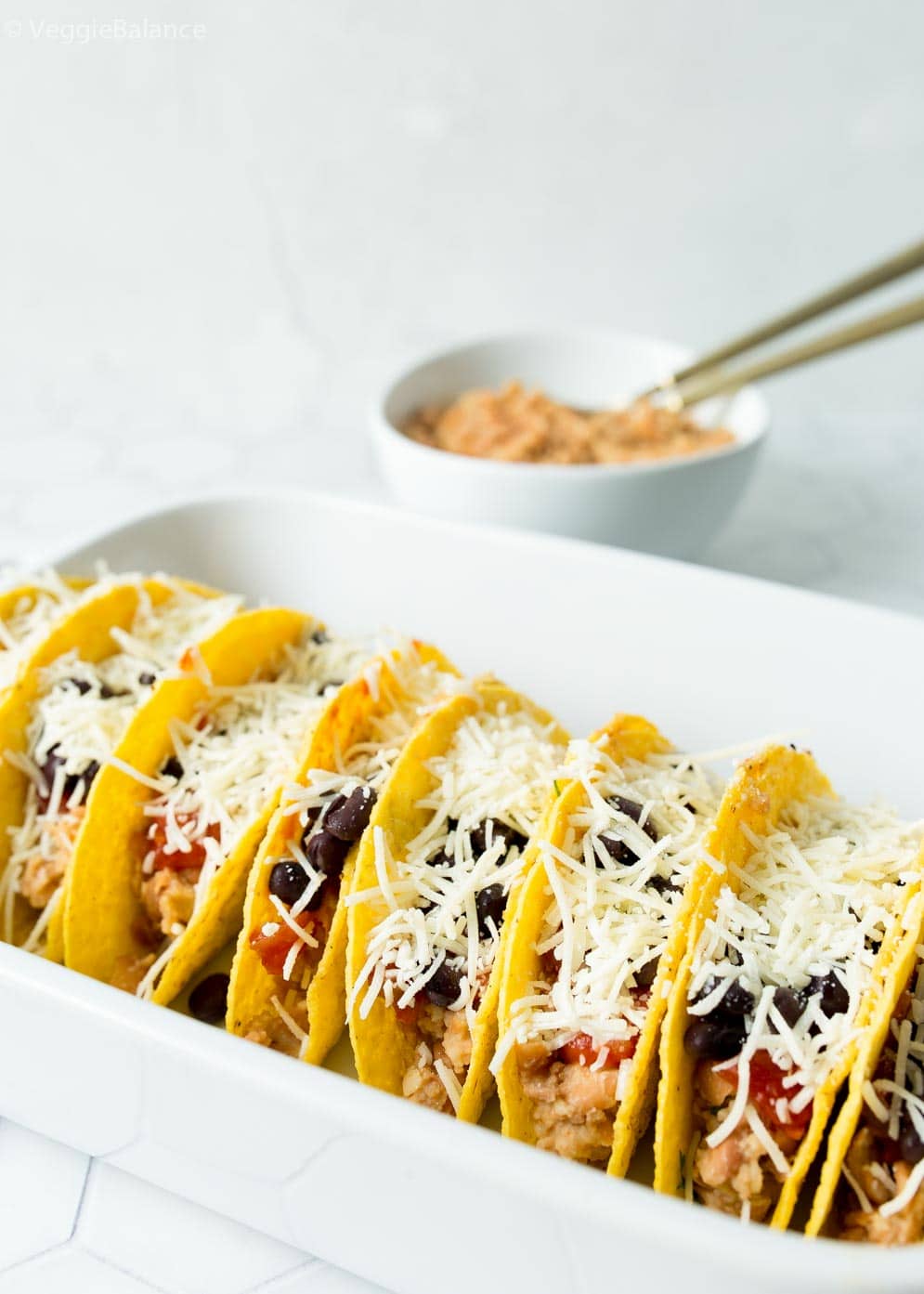 What to put in vegetarian tacos?
OK so you've got these tacos and now you are wondering what other unique and delicious topping ideas to add to oven baked tacos after they come fresh from the oven. This recipe is actually perfect for when serving a crowd. You can bake up a few pans of these and then buffet style the toppings below.
Cheese or cheese alternative
Sour Cream or Dairy-Free Plain Yogurt
Salsa
Taco Sauce , enchilada sauce or hot sauce
Guacamole
Onion
Chopped Tomatoes
Shredded Lettuce or Arugula
Queso
There are so many cold and hot toppings to add to your vegetarian baked tacos. You can instantly elevate these to the next level with some delicious toppings.